California Space Management, Inc. is a general contractor based in Southern California and comprised of a dedicated team of design consultants, support and administrative personnel, installation managers, designers and executives. Our Advisory Board includes seasoned executives from both our industry as well as "outside-industry" experience to help us consider a variety of perspectives and views as we manage and lead our business. We invite you to give us an opportunity to learn more about your operational objectives for the coming year and challenge us to help you maximize your physical resources while reducing costs. We are standing by…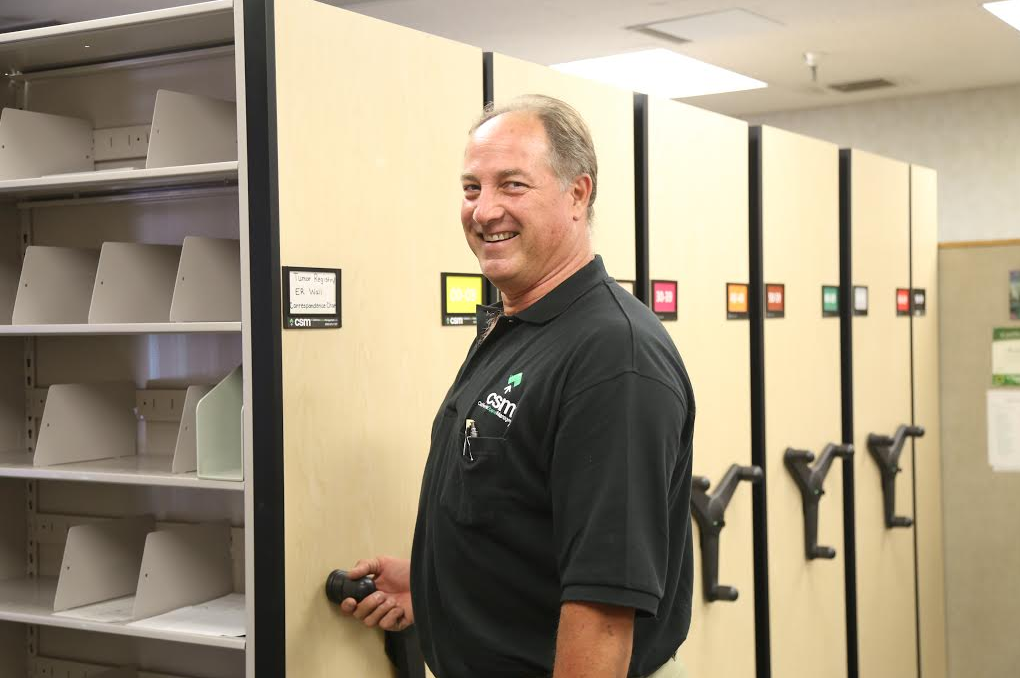 What we improve for you:
Capacity

Organization

Access

Control

Safety

Functionality

Workflow
Preservation

Security

Productivity

Aesthetics

Order

Economics…
…This is what we do.
Assess | Design | Refine | Propose | Deliver | Install | Service | Repeat
Why Choose Us?
For more than 30 years, California Space Management, Inc. (formerly Filefax) has served San Diego and surrounding counties. We meet your challenges of limited floor space, budget constraints, and future expansion with a full line of innovative storage, filing, and material handling equipment. Connect with CSM and build a superior workplace environment.
We are Southern California's dedicated provider of high-density mobile storage solutions, serving San Diego, Los Angeles, Orange, Riverside, San Bernardino, Ventura, San Luis Obispo, and Santa Barbara Counties. Available storage solutions include high density mobile storage systems, compact shelving, storage cabinets, storage lockers, weapon storage, modular caseworks and more – all with unmatched manufacturing efficiency.
We recognize that each market, organization and business is radically different and requires a different approach. A CSM representative will visit your facility to measure spaces and carefully listen to your requirements. With over 1000 successful project completions in all markets, we're qualified to find a unique storage solution for you.
Increase your business's productivity
In the ever-more competitive world of business, companies are constantly seeking to gain an edge in terms of productivity and performance. There are many ways to do this: applying new technology, refining systems, streamlining operations. One area that should not be overlooked is storage—choosing the right system can make a positive difference to your organization.
Our solutions provide intelligent storage that both makes the most of your space and adapts as your needs evolve. Here are just some of the business benefits: building productivity, innovation and teamwork; consolidating staff, equipment and files; maximizing control and security; and opening up more space for operations through more efficient storage of large volumes of material.
Create a functional educational environment
Keeping our educational facilities at the forefront of today's requirements is an increasingly difficult challenge today, both of our educators and for those who provide the resources and facilities that our institutions demand. Increasing expenses and dwindling resources require maximum utilization of every square inch of space and any available budget. Many of these requirements are served by the solutions offered thru California Space Management, Inc. We work with architects in the design phase, general contractors in the specification and building phase and of course end users in our local libraries and educational institutions, always with a common objective – to improve the efficiency and function of the educational environment.
Deliver health care faster and more efficiently
With California Space Management, Inc. healthcare storage solutions, everything's right on hand. Conveniently at your fingertips. Giving you quick, easy access to supplies and materials right at your point of need. You save both steps and time. Deliver care faster and more efficiently.
Ensure ready-to-go access to military equipment
In the military field, you can never pay too much attention to detail. Every aspect of your operations can be crucial, from the training ground to field operations, from the troops on the front line to the staff in the command center. In planning and strategy, you try to consider everything that could make a difference.
With Montel's multi-usage shelving, racking and filing systems, you can achieve various objectives that contribute to the overall success of your operations. Consolidation of staff, equipment and files. More organized inventory. Greater control over access to supplies and equipment. Lower maintenance expenses. At the same time, we understand that speed is of the essence, so our products are intelligently designed to ensure ready-to-go access.
Store growing museum collections with care
Collection storage – collection care. Arguably the single-most important undertaking for museums both large and small. As collections continue to grow, efficient artifact storage space and optimum convenience and control over artifacts have become primary needs in today's museum collection preservation strategies. California Space Management, Inc. offers innovative storage solutions that help museums better manage time, space and security.
Secure your public safety supplies with efficient storage
Public safety is a broad field covering many activities, each of which is equally vital in its way to maintaining law and order. The tasks that need be performed, and the materials needed to fulfill them, vary enormously. But whether you're a courthouse, crime lab, DEA office, or corrections, fire protection, U.S. law enforcement or Canadian RCMP facility, one thing is for sure: you cannot make any compromises when it comes to secure storage.
At California Space Management, Inc., we realize that storage plays an essential role in your activities—whether that means restricting access to critical evidence, racking weapons and ammunition for use by law enforcement officials, or providing accessible management to fire-fighting equipment such as hoses.