How Far Should A good Texas hold'em Computer chip Weigh?
Little or no deposit cellular casino is definitely a relatively brand-new phenomenon appeared about the gambling horizon thanks to the cellular technology Have excitement Together with Gain During A On the internet Net casino breakthrough. Two luxury cruise boat cash, a Carribbean Thousand Gambling den and Royal Carribbean Freedom of the Seas. (more…)
Must have considerations when purchasing high-density mobile storage solutions
1.     "The Floor" – it's all about the floor!  If your vendor is experienced with mobile storage applications, they will guide you thru the process of structural analysis, weight loads, deflection criteria and seismic compliance.  This all starts at the ground/floor level.
2.     Proper Design – Gotta have it.  We're not talking about fancy colors and finishes.  We mean functionality, accessibility, density, safety, security, etc, etc…  This is done on a case-by-case basis, rather than a one-size-fits-all formula.
3.     Skilled and Experienced Installation Crew – Oh yes, this is critical.  Not so simple to fix a post-install drift issue, runaway carriage, non-compliant rail anchorage, and a number of other elements affected by the installation process.
4.     Quality Product – While separation of quality levels between brands has diminished significantly in recent years, there are still key elements which comprise a high-quality system that will last and perform well for decades.  Drive mechanism, rails, carriage construction, shelving specs, safety features and flooring material and just some of the details to review when purchasing mobile storage.
5.     Reliable Local Representation – Likely, your selling vendor or dealership for your brand of choice.  Are they vested in the local community?  Do they bring the necessary niche industry skill and experience required?  Are they responsive to your needs, customer focused and able to design a solution around your needs?  That part is the key – can they design the best solution for you? 
Incredible Opportunity to Save on a Used Mobile and/or Static System!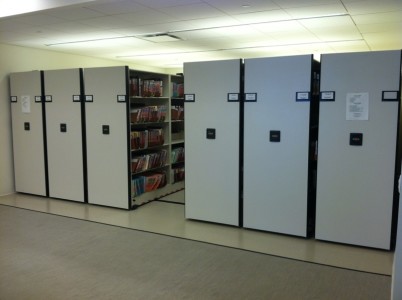 Incredible opportunity to save!
We are offering a used mobile and/or static shelving system at an extremely discounted price! The system was recently pulled from a law firm & is in great condition with many options available to make it unique just for you. If you are interested in finding out more please contact our VP of Sales, Bill Bowler.
Bill Bowler – (858) 726-3815
[email protected]
This will not be available for long! Act now!
Have any other questions or concerns? Drop us a line!
California Space Management on Good Morning San Diego
Curtis Dadian on Spotlite Radio
Space Management is an important part of the development and efficiency of many companies. In this interview with Curtis Dadian he explains his company's strategies and approach to space saving and some wonderful opportunities being offered by California Space Management.
Listen To Spotlite Radio Presents the President at California Space Management, Curtis Dadian