Loss Prevention Security Cabinet
Our stand-alone CSM® Loss Prevention Security Cabinet secures small- to medium-sized products where they are stored on the sales floor, back room, receiving area or warehouse.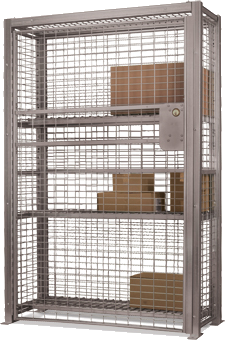 Advantages
All-Steel Construction: Made from sturdy 8 gauge galvanized welded wire mesh panels on a 2" x 2" frame made of 14 gauge galvanized steel. Hinged doors include a built-in cylinder lock.

Secure But Open: Open mesh design allows for a quick visual inspection of valuable items.

Easy Assembly: Pre-punched components for easy assembly.

Options: Optional shelf available in 4 gauge galvanized welded wire, or 20 gauge galvanized steel panel. Powder coating finish available in three colors.

Standard Sizes: Cabinets come in widths of 48" (single door) or 96" (double door); and a variety of depths and heights. The 96" model will fit in a standard 96" wide pallet rack.
TA-50 Lockers — Expanded Metal
Military Storage Lockers for Securing Personnel Equipment and Gear
Our expanded metal TA-50 Lockers provide open, but secure storage of personnel individual equipment. Bi-parting, center-meeting doors feature a high security 3-point locking system. Standard size is 78"H x 42"W x 24"D.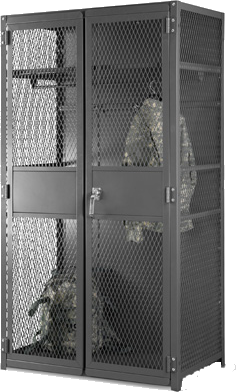 Advantages
Heavy-duty construction: TA-50 Lockers are constructed of heavy gauge steel to withstand years of heavy use. Doors and sides are made of expanded metal. Top and bottom shelves are flanged for increased stability. Tough machine grey baked on powder coating finish.

Secure: TA-50 Lockers feature full-height doors with a 3-point locking system. Latching rod engages top and bottom edge of door frame while center latch engages the door jamb, enabling doors to latch on three sides. Door handle has built-in padlock hasp.

Easy assembly: TA-50 Locker components are welded and pre-punched for ease of assembly. All hardware supplied. Bolts are not accessible from outside of locker.
Product Folding Guard Image Wire Security Fence
Advantages
Quality Construction: Partition panels, posts and doors are all-steel and completely galvanized for long-lasting performance and good looks. Open welded wire mesh design provides unobstructed view, allows air circulation and light penetration, while providing security.

Easily Installed: Qwik-Fence welded wire partitions install 25% faster by using fewer parts, and self-tapping screws—instead of nuts and bolts used in conventional systems. Doors are pre-hung and cut installation time by 50%. And because there are no pins to drill out, Qwik-Fence can be reconfigured faster and more easily, saving additional labor costs. Qwik-Fence installs faster on uneven floors compared to other systems which require shimming of each post.

Economical: Qwik-Fence welded wire partitions offer the lowest total cost of ownership of any wire partition system on the market.

Versatile: Unlike woven wire partitions that unravel when cut, Qwik-Fence welded wire partitions can be trimmed in the field to accommodate changes in dimensions, floor or wall irregularities, custom conveyor or lift systems and overhead piping or obstructions. Qwik-Fence panels can be attached to posts at angles other than 90 degrees, providing greater flexibility in the shape of your wire partition enclosure, which allows more efficient use of space.

Strong, secure: Qwik-Fence welded wire partitions gets its strength from 8-gauge welded wire mesh, all-steel construction, its system of anchoring to the floor and thickwall square tubing posts. Panel hardware is accessible only from the inside of partition for added security.

Maintenance-Free: Qwik-Fence welded wire partitions look new for years to come. Galvanized components are rust resistant and maintenance-free—no paint touchups are ever needed.

Applications: Qwik-Fence welded wire partitions are ideal for separating and securing any space in industrial, commercial or government environments. Qwik-Fence can be used to divide work areas, create secure storage, stock rooms and tool cribs.

Modular: Component system makes planning, installing and relocating easy in any space. Panels stack one on top of each other between posts to create enclosures up to a height of 75 feet.

Attractive: Bright steel wire mesh gives it a clean, attractive look in both office and production areas. Powder coated colors optional.

Also available: Numerous door and lock options, extra-high partitions, service window, ceiling panels and custom sizes.
Ask an Expert
Any space management question
Schedule a Survey
On-site or phone interview
Capacity, control, other…?
On-site or phone interview