CSM's solid line of quality weapon racks and complete storage systems is designed to maintain the highest levels of security, protection and mobility readiness. Completely customizable and reconfigurable, CSM's Weapon Racks and Weapons Storage products are made to keep equipment organized while maximizing the use of limited space. U.S. Military, Police, Museums and even private collectors are among the many users of California Space Management Weapons Storage Racks and Systems.
Our applications include storage for any firearm, including:
Military / Armory Weapons (M16's; M4's, etc…)

Shotgun storage

Sniper rifle storage

Electronic Control Device storage (ECDs)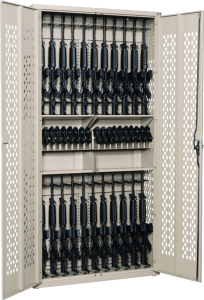 Argos Cabinet
Universal weapons cabinet to secure firearms, ammunition, tactical gear and accessories.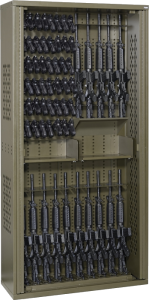 Argos Racks
Universal weapons rack for organizing firearms and gear.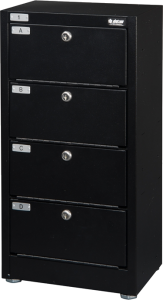 Personal Pistol Locker
The Personal Pistol Locker is designed for the secure storage of pistols and other small items.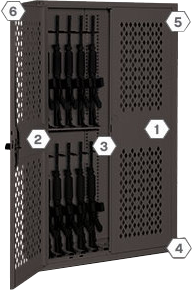 Features
1
Durable
Heavy gauge steel for maximum security and durability.
2
Secure
Various locking mechanisms compliant with AR 190-11. requirements for safety and security.
3
Custom Configurations
Adjustable components designed to secure rifles, shotguns, pistols, ammunition, optics, body armor, gear, bags and accessories.
4
Doors
Choose from standard hinged or bi-fold doors to keep your equipment secure.
5
Expansion
Gang cabinets together side to side, back to back, or on top of each other for maximum space efficiency.
6
Finishes
Powder coated Finish available in four standard colors as well as custom color options.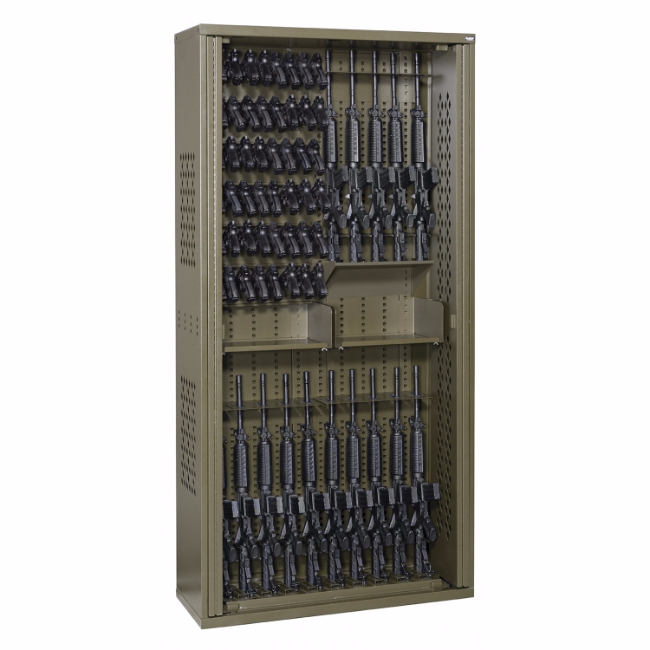 Single Hinged Door Cabinet
Width: 24″
Depth: 15″
Heights: 24″, 45″, 50″, 72″, 84″
Features:
3-Point locking mechanism
Keyed lock
Padlock Hasp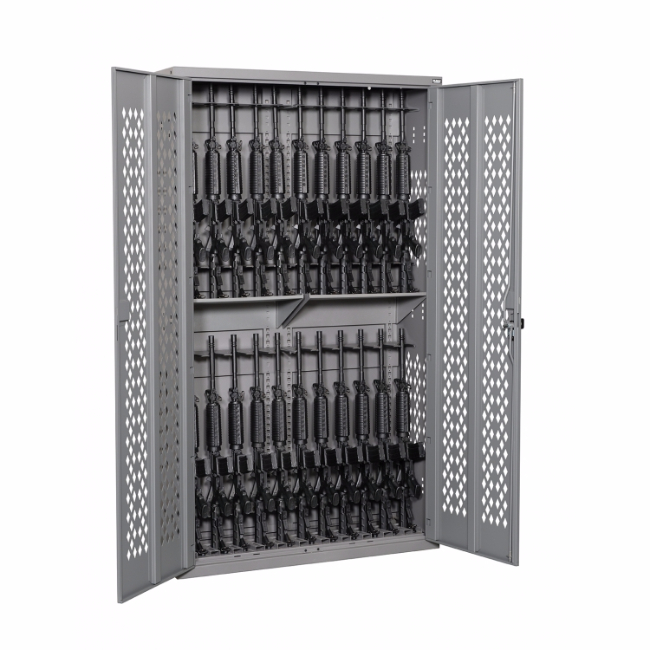 Double Hinged Door Cabinet
Width: 42″
Depth: 15″
Heights: 24″, 45″, 50″, 72″, 84″
Features:
5-point locking mechanism
Keyed lock
Padlock Hasp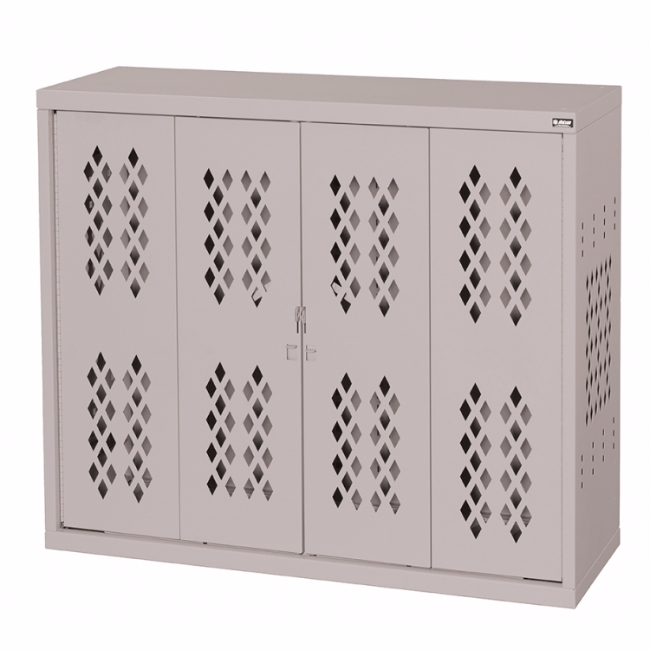 Double Bi-Fold Door Cabinet
Width: 42″
Depth: 15″
Heights: 24″, 45″, 50″, 72″, 84″
Features:
5-Point locking mechanism
Padlock Hasp
Fully receding doors




Completely flexible, the CSM's universal weapons rack system is designed for maximum unit readiness.
Save Space, Gain Efficiency & Improve Weapons Security
Optics and accessories may remain assembled during storage inside CSM's weapons racks, and diamond cut construction allows for full visibility efficient inventory control. Fully retractable doors allow for smaller aisles in your space, opening up room for additional inventory. Our racks can be serve as individual units, or grouped together in rows, stacked, or utilized within high-density mobile storage system for maximum capacity and access in limited space.
Ask an Expert
Any space management question
Schedule a Survey
On-site or phone interview
Capacity, control, other…?
On-site or phone interview