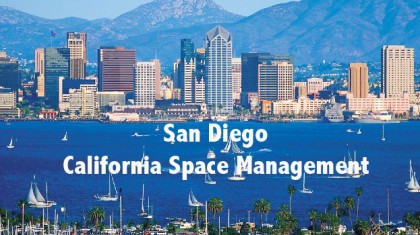 California Space Management is a seller of high density storage systems covering southern California.  If you are a business in the San Diego area and are looking for a storage solution, look no further.
Mobile shelving is a great option for your storage needs. Mobile shelving is easy to use, secure, and made with high-quality materials. Every business has different needs for storage. These needs are as various as the different industries in today's economy. Mobile shelving is a great storage option because it outshines it competitors in mobility, security, and versatility. These qualities make them great multi-purpose storage units up to the challenge of any storage requirement. Whether you need to store records or tools, mobile shelving is a great option for businesses with limited space and growing storage needs.
Mobility
Mobile shelving is unique among storage options because its setup allows for easy movement of shelves. This allows you to selectively create or minimize storage space as needed. If you need space between shelves, you just need to make the required adjustment. The three main types of mobile shelving are mechanical, electric, and manual. The mechanical type shelves make use of rotating drive wheels to move the shelves. The electric version gives you the additional option of powered shelves. This means that you can move your shelves into the desired position with the push of a button. The final option, manual shelves, use simple handles to help you push your mobile shelves into the configuration good for you. Overall this mobility is a great way to manage space especially in a major metropolitan center like San Diego. Above all, mobile shelves allow for easy and secure access to your stored items when needed.
Security
Security is a very important aspect of storage especially in San Diego. Businesses need storagethat protects sensitive documents, expensive tools, or rare artifacts effectively. High density storage has options such as alarms and touch pad security systems. In addition, mobile shelving comes with various locking mechanisms to keep items safe when shelving gets closed for theday. In addition mobile shelving is adaptable to different kinds of items to provide the right sort ofstorage conditions.
Versatility
Storage is used for a variety of reasons and purposes. Mobile shelving allows firms to customize their storage options to fit their specific needs. If you need to safely store records, then you can order shelving with the proper fittings and shelves for storing records. You can also format theshelves to hold book collections and other print media. If you need to store items other than documents, there are several models to fit your particular need from tool storage to even valuable antiques and artifacts. The beauty of mobile shelving lies in the almost limitless adaptability of the system. With different options and styles, customers can create their ideal storage space.
Mobile shelves provide many benefits over traditional storage. They provide over 300 percent more storage space than traditional storage solutions. This is important in the San Diego area for customers looking for storage solutions that make the best of use of space while providing great protection of their items.